Products and Services offered at North Surrey Chiropractic Clinic
Low Intensity Laser Therapy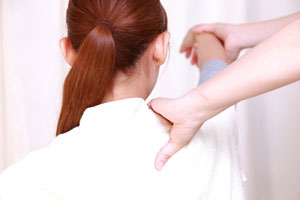 NSCC utilizes a state of the art laser system that has had great results for a remarkably wide range of problems. The conditions treated range from arthritic joints to spurs and shoulder calcifications, disc herniations, muscle, nerve and tendon damage. It has also proven itself to be very useful with sports related injuries. We have found this to be a tremendous addition to our clinical repertoire.
Spinal Decompression (non-surgical)
Research points to the beneficial effects of traction on back pain.  Conditions that are helped with spinal decompression include: protruding discs, degenerative discs and joints, sciatic pain and joint stiffness.  Spinal Decompression is effective for neck, upper and lower back conditions.  Spinal Decompression is a pain-free, relaxing process that has proven to be an extremely valuable tool for treating bulging and herniated discs.  People with arthritis also find relief from this gentle therapy.
Combined with laser therapy, spinal decompression may produce results more quickly and effectively.
Custom Orthotics
We have been prescribing orthotics for over 30 years and have found that in many circumstances they have been an invaluable addition to helping our patients overcome their persistent discomfort. When one looks at the biomechanical body, everything starts at the feet. Often if the mechanical problems associated with poor foot function are not corrected then the body cannot attain complete healing. Our clinic utilizes several different companies depending on what is best for the patient.
Posture and Exercise Support
We supply posture bands to enhance shoulder and spinal alignment.  In addition, video exercise instruction can be delivered to your phone or computer for home use.
Shockwave Therapy
Shockwave is a relatively new form of treatment for breaking down calcification of the shoulder and heel (bone spurs).  It is also useful for repetitive stress injuries such as tennis elbow, and injuries located in the achilles tendon, plantar fascitis, rotator cuff and groin muscles.
Accupuncture
Traditional Chinese Medicine

Ready to schedule an appointment with a Surrey chiropractor? Call us at (604) 585-1588.
We are able to direct bill most extended health plans.
---
Products and Services | North Surrey Chiropractic Clinic | Chiropractor Surrey