Meet Dr. David Wasylynko BSc,
MS, DC, CSCS, ICCSP, FRCCSS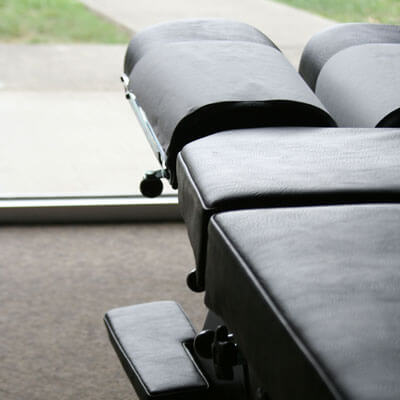 Prior to becoming a chiropractor, I had always been interested in the health field. The problem I faced was that so little of it made sense to me. Fortunately, through my own sports injuries, I discovered how effective chiropractic can be.
Although most people think that back injuries bring you to a chiropractor's office, that is not always the case. My first experience was a result of knee pains from many years of Rugby. Although I believed that my knees were the source of my problem in reality it was my lower back that was injured and I didn't realize it. Following a series of treatments, my knees felt great and I was able to continue running and playing sports.
At that point, I decided to find out more about chiropractic care and how it influences a person's health. After researching the program I knew that chiropractic was the right career choice. It is a field that looks at the body as a whole and restores function in a logical fashion.
I believe it is always possible to affect a change even if not a full recovery. Although my expertise seems to lie in the area of sports-related injuries I still have great results with the geriatric patient and am able to create a better quality of life for them. The part of practice I enjoy the most is the interaction with people, getting to know them and their families, and feeling that I am part of their lives.
My post secondary education started at the University of Victoria where I received a B.Sc. in Biology. I followed that with a year of Rehabilitation Medicine (Physiotherapy) at the University of British Columbia. Realizing that chiropractic was the field I was most likely to enjoy, I left UBC for the Canadian Memorial Chiropractic College in Toronto. Although the program was demanding and certainly stressful it was exactly what I was looking for and it didn't leave me disappointed.
After several years of practice I attained a Doctor of Naturopathic Medicine to round out my holistic education. I do not practice as a Naturopath because I receive more enjoyment from the hands-on experience of being a chiropractor. Since being in practice for the last twenty plus years I have also received certifications in Acupuncture, Active Release Technique, Rehabilitation, Whiplash Injury treatment and Strength and Conditioning.
I have recently completed a fellowship in Chiropractic Sports Science (FRCCSS). This is the highest academic credential that can be attained in Sports Chiropractic, currently making me the only Chiropractic Sports Specialist in Surrey, BC. In terms of sports injury and performance qualifications, I have achieved a Certified Strength and Conditioning Specialty and a Masters of Science in Sports Science. As well, I hold the designation of an Internationally Certified Chiropractic Sports Physician.
In essence, I go to my office every day hoping to make a difference in someone's life. That difference may be curing a headache that has been part of a person's life for decades, or allowing someone to play golf again when they thought it would never happen. My philosophy has always been to give the patient more than what they came in for. I take pride in bringing a smile to a person's face and giving them the opportunity to do things that had seemed impossible a short time before. I try to be realistic about my goals for a patient. There are times when feeling 100% is not in the realms of possibility and it is important for a patient to understand that, and not be given hopes that will set them up for a disappointment.
My personal health habits tend to mirror the recommendations made to patients. I believe in regular xiropractic adjustments for myself and my family and I am almost a fanatic when it comes to regular exercise and keeping the muscles fit. The chiropractic adjustment is a very powerful tool, capable of affecting a great many positive changes in the body. It is however only a part, albeit a significant one, to the total health picture. In my practice I emphasize the importance of a strong muscular frame to support the spine so that the adjustments can be maximized and be more effective. I also believe in the proper type of diet and correct supplements for each person's unique body. Although I believe that all pharmaceuticals have unwanted side effects there are times when they are necessary and I feel that it is important for a health professional to know their limitations and refer to the appropriate professional when necessary.
I have recently completed a Masters Degree in Sports Medicine and I am currently involved in the very demanding Chiropractic Sports Fellowship program, which when completed, will enable me to consult and treat athletes at the highest level.
I am currently involved with University athletics and high school rugby and spend a lot of time volunteering my services to various sporting organizations such as the PGA, summer games, provincial championships in various sports and track and field meets.
Get Started Today
In the thirty plus years I've been in practice I have seen "miracles" and I have helped people that never thought they could ever be helped. I have been very fortunate with my abilities to assist people in changing their health situation and I feel very confident in knowing when to refer to another health professional. If you have any concerns or questions, contact us and I'll be pleased to answer your questions and hopefully send you in the right direction.
---
Dr. David Wasylynko | (604) 585-1588